This is where Esteban has all his restorations and repairs carried out, by Julyan Wallis, 'The Guitar Doctor'. 
Esteban regards Julyan as  the ''best maker/ restorer / and luthier in the south west of the UK ''
 
Dear Juylian  
Thank you for the perfect restoration of my 1947 Vuida santos hernandez Guitar which was done perfectly with french polish, the same as the original. The work has allowed the guitar to come alive , also the rebuilding of the bridge and tie blok as santos intended.. The instrument is magnificent and has been bought by a collector in Germany.  
This would never have happened without your skill, dedication and attention to detail, as you're one of the best luthiers and by far the best in the south of the UK.  
May I recommend anyone needing work /restoration or commission to you, as you're a master builder of consistent quality, who holds up sacred traditions of proper making and your work testifies of it. It is my pleasure to recommend you to  anyone in the future who needs your services or commissions.  
With heart felt thanks,
 Esteban Antonio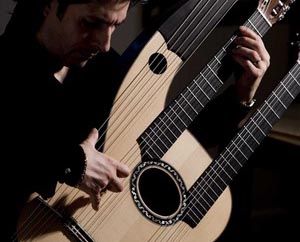 Stephen Hill guitars spain - creator, with esteban, of the 'hashem'